Google Developers Instagram Launch, Spring 2019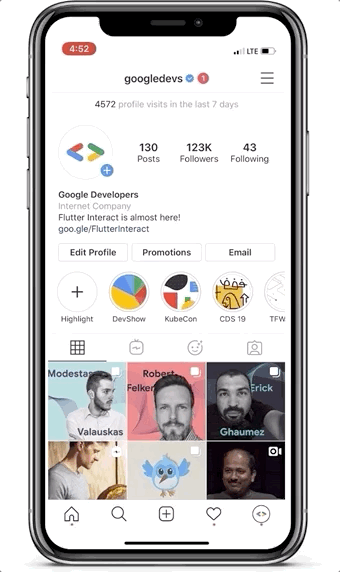 Sample of Pride 2019 campaign posts.
Series designed for the Flutter Interact conference that showcases the work of designers and generative artists who use Flutter.
Scope:
To launch the Google Developers Instagram channel that served as a cultural hub for Google Developers. The channel needed an established design style, content strategy, and workflow that aligned with the Google Developers brand, as well to be able to support the many product areas and groups that our team works with. The channel launched in May 2019 to coincide with the Google I/O developer conference.
I worked as a lead designer, strategist, and art director alongside a small and talented team of designers, strategists, and event coordinators.


Methodologies:
Collaborative brainstorming with our design team, social strategy team, and Google marketing representatives.
Competitor analysis of Instagram channels both within and outside of the tech industry, including media groups such as Vice and the New York Times, and community building initiatives such as Meet Up and Slack.
Research and coordination with other Google-owned Instagram channels to pull from established best practices and guidelines.


Deliverables:
Ensured that the messaging within our feed was not just promotional of Google, but also championed the work and impact of groups often marginalized in the developer community through campaigns such as that for Pride and Hispanic Heritage Month.

Proactively integrated and championed the EDII principles Google aims to uphold.
Garnered 133K followers by the end of 2019, just seven months after launching, far surpassing all of our follower-count goals.
Published 12 highlight reels that provide on-the-spot coverage of developer events, as well as introduce original video series like "Dev AMA."
The channel is seen within the developer community and within Google overall as a vibrant cultural ecosystem that functions both as a promotional arm for GDS Video and Design as well as a robust social broadcast network.
Total number of posts: 136
Total engagements (likes, comments, direct messages, and saves): 142K
Total views of in-feed video: 293K
Average story views: 12K
Average views for timeline posts: 5K (excludes story views)
Content Strategy Refresh, Winter-Summer 2018

Scope:
To craft a content strategy that aligns branding across all product areas and publishing platforms; and to develop systems, protocols, reference documents, and design prototypes that help integrate this new strategy into our team's deliverables at each stage of production.



Methodologies: Competitor analysis of media and online education studios and projects.

Channel audit organizing our design deliverables by product, content type, and visual styles to help our design team visualize where and how our current branding aligns to or strays from a cohesive system. The audit concurrently integrated previous research to ensure we considered our users first and foremost, and what they desire from our work.

Semi-structured interviews with internal and external stakeholders (fellow designers, our internal social distribution team, and Google developer advocates).

Wireframes of design systems that help categorize content such that it better communicates with our users and organizes internal workflows.

Design explorations of new templates, visual language, and branding guidelines driven by these inspirations.


Deliverables:
Educated the larger Developer Content Services team about the importance of creating a cohesive brand and design language.


Outline of the design assets we create across all platforms and how many variations or instances we produce of each.

Categorization of those assets based on a required degree of brand uniformity (i.e. which assets can be uniform across all platforms and products, which can be uniform within each product area, and so on down to assets that must be designed unique to their specific project needs.)

Design guidelines for video asset production, specific to each brand.

Design trend analysis that directly influenced our branding for 2018-19 developer events.


Team Operations Redesign, Fall 2017
Scope: To refine and clarify the systems of communication, asset sharing, and feedback within our 6-person design team, in anticipation of imminent growth of both personnel and project scope.

Methodology:
Semi-structured interviews with each member of our team, plus members of other GDS teams, to help identify strengths and needs, as well as to initiative a collective conversation about our deliverables, brand, and workflows.
Affinity grouping of interview feedbacks and findings.
Research into processes on other design teams both within and outside of Google

Deliverables:
Onboarding slidedeck (previously did not exist for the design team)
Reconfigured team meetings to integrate a regular feedback session internal to the design team.
Updated and improved deck templates to increase efficiency and communication clarity between developers and designers.
Increase of morale amongst the design team
New Google Drive folder for only designers to help keep templates up to date and applied to shows correctly.

Developer Ecosystem, Spring 2017
Scope:
The first dedicated research initiative within the Google Developer Studio's design team that sought to inform designers of who is watching our videos, and how the graphics of the videos impact those users' work or impression of Google videos.



Methodologies: Literary review of developer learning, online learning behaviors, and developer segmentation.

Semi-structured interviews with internal and external stakeholders (Developer Advocates, Project Managers, Producers, Engineers, UXRs, YouTube researchers, non-Google MeetUp organizers).

Online Survey evaluating when, why, and how developers engaged with videos. Self-analysis of our channels via comments, viewing metrics, subscription history, etc.

Ethnographic observation at developer conferences, meet-ups, and hackathons.


Deliverables:
Snapshot of the demographic makeup, motivations, and habits of the developer community, plus their feedback on GDS videos.

Set of "developer mindsets" that provide a lexicon for talking about our audience in a way that emphasizes context and fluid personas.
The process of researching also exposed internal gaps of communication that allowed for repetition, fragmented production, and general inefficiency. Such illuminations helped later to direct my work on systemizing the design team's process.