Evergreen Project 2020
Scope:
To design an operations solution that would equip our team with dynamic and on-brand assets to accompany everyday social media posts, freeing up our team to focus more on campaigns, design strategy, and conceptually intensive projects.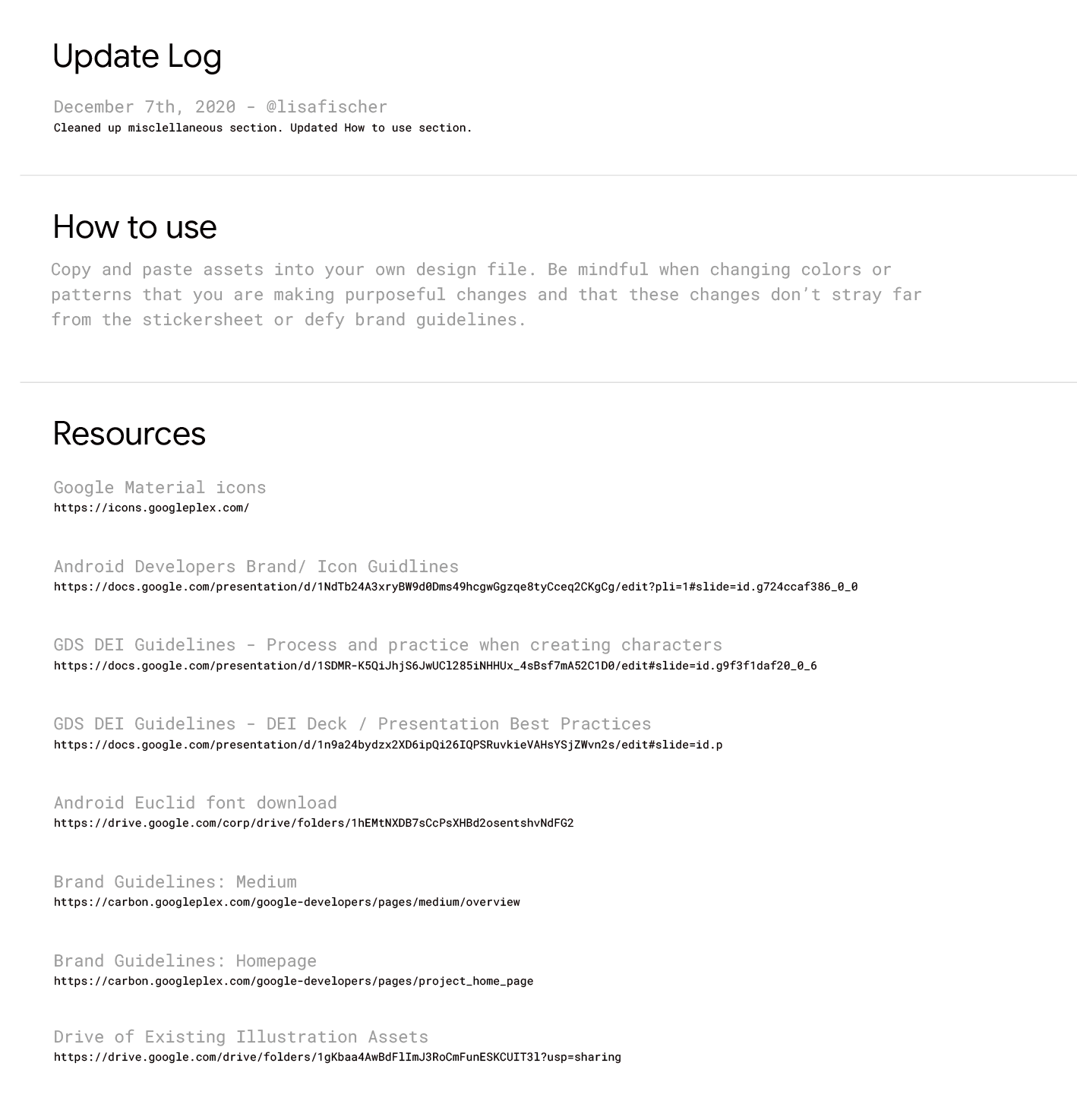 Android Developers sticker sheet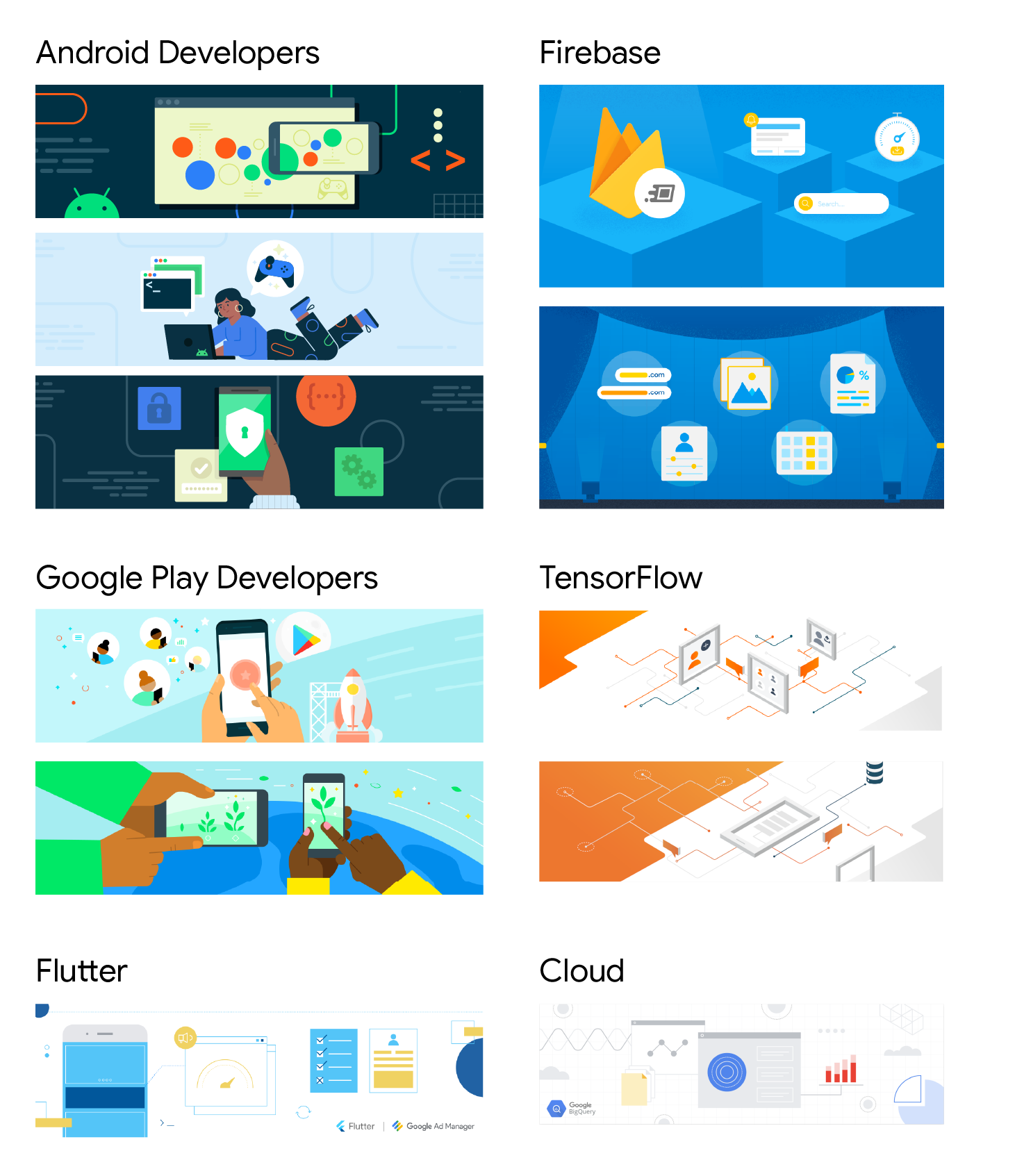 Selection of Evergreen Medium headers
Methodologies:
Coordinating with our Publishing team to determine the themes and types of assets would be neded most frequently. Regular communication with our project managers to change project assignments according to designer availability and skill level, so as not to interfere with client-facing projects. Iterative strategy development to determine what kinds of content and workflows each team member needed to support everyday social content.

Regular audits of the Product Areas' evolving design styles to ensure the evergreen assets we developed reflected the most up to date branding.

Art directing various designers to ensure the branding between assets was cohesive and themes were accurately represented.


Deliverables:
Adobe Illustrator sticker sheets for each PA featuring common elements from previously approved social assets, organized by logical degrees of segmentation (ex. asset background patterns were coupled with background colors). New designs for Medium and Twitter posts, crafted to reflect those common themes reported by our Publishing team, and exported as non-modifiable pngs. New designs for Twitter posts featuring modifiable text boxes, exported as Photoshop templates and given to the Publishing team to update autonomsly with appropriate messaging. New file organizational system that ensures assets could be easily findable, and that sharing permissions were regulated.
PAs supported: Android Developers, Google Play Developers, Chrome Developers, Cloud, Google Developers, TensorFlow, Firebase, Material Design, Google Developer Groups (GDG), Women Techmakers, Flutter, and Google Web Creators.

Content Strategy Refresh, Winter-Summer 2018
Scope:
To craft a content strategy that aligns branding across all product areas and publishing platforms; and to develop systems, protocols, reference documents, and design prototypes that help integrate this new strategy into our team's deliverables at each stage of production.



Methodologies: Competitor analysis of media and online education studios and projects.

Channel audit which organized our design deliverables by product area, content type, and visual styles to help our design team visualize where and how our current branding aligns to or strays from a cohesive system. The audit concurrently integrated previousresearch to ensure we considered our users first and foremost, and what they desire from our work.

Semi-structured interviews with internal and external stakeholders (fellow designers, our internal social distribution team, and Google developer advocates).

Wireframes of design systems that help categorize content such that it better communicates with our users and organizes internal workflows.

Design explorations of new templates, visual language, and branding guidelines driven by these inspirations.


Deliverables:
Educated the larger Developer Content Services team about the importance of creating a cohesive brand and design language.


Outline of the design assets we create across all platforms and how many variations or instances we produce of each.

Categorization of those assets based on a required degree of brand uniformity (i.e. which assets can be uniform across all platforms and products, which can be uniform within each product area, and so on down to assets that must be designed unique to their specific project needs.)

Design guidelines for video asset production, specific to each brand.

Design trend analysis that directly influenced our branding for 2018-19 developer events.


Team Operations Redesign, Fall 2017
Scope: To refine and clarify the systems of communication, asset sharing, and feedback within our 6-person design team, in anticipation of imminent growth of both personnel and project scope.

Methodology:
Semi-structured interviews with each member of our team, plus members of other GDS teams, to help identify strengths and needs, as well as to initiatiate a conversation about our deliverables, brand, and workflows.
Affinity grouping of interview feedback and findings.
Research into processes on other design teams both within and outside of Google

Deliverables:
Onboarding slidedeck (previously did not exist for the design team)
Reconfigured team meetings to integrate a regular feedback session internal to the design team.
Updated and improved deck templates to increase efficiency and communication clarity between developers and designers.
Increase of morale amongst the design team
New Google Drive folder for only designers to help keep templates up to date and applied to shows correctly.

Developer Ecosystem, Spring 2017
Scope:
The first dedicated research initiative within the Google Developer Studio's design team that sought to inform designers of who is watching our videos, and how the graphics of the videos impact those users' work or impression of Google videos.



Methodologies: Literary review of developer learning, online learning behaviors, and developer segmentation.

Semi-structured interviews with internal and external stakeholders (Developer Advocates, Project Managers, Producers, Engineers, UXRs, YouTube researchers, non-Google MeetUp organizers).

Online Survey evaluating when, why, and how developers engaged with videos. Self-analysis of our channels via comments, viewing metrics, subscription history, etc.

Ethnographic observation at developer conferences, meet-ups, and hackathons.


Deliverables:
Snapshot of the demographic makeup, motivations, and habits of the developer community, plus their feedback on GDS videos.

Set of "developer mindsets" that provide a lexicon for talking about our audience in a way that emphasizes context and fluid personas.
The process of researching also exposed internal gaps of communication that allowed for repetition, fragmented production, and general inefficiency. Such illuminations helped later to direct my work on systemizing the design team's process.
Creating a Research Culture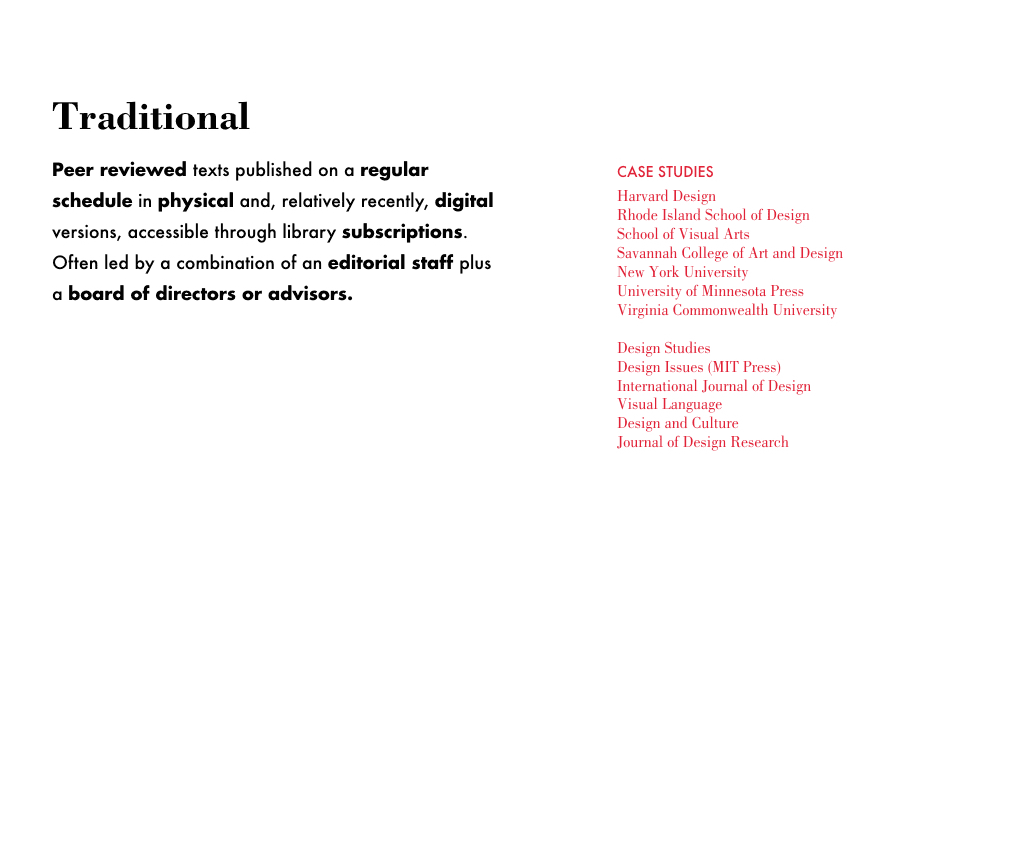 Scope
: A collaborative research project that took place over the course of the 2015-2016 academic year that sought to provide research for Pratt's Graduate Communications Design department on two key questions:
how to cultivate a research culture in an institution where one does not previously exist; and
what is the state of academic publications, and how, theoretically, could Pratt's Grad ComD department apply a model of publishing to its current output.
Methodology
:
Case studies of other institutions with vibrant research cultures from the academic, corporate, and not-for-profit sectors.
Interviews with researchers, academics and designers aboutenvironments and communities that support their work, and how that integrates with their personal research process and objectives.
Deliverables:
Road map illustrating the ideal organizational structure of academic research institutions, and how information systems form between individuals and groups therein.
Taxonomy of research publication types and analysis of their content, impact, and process of creation.
Road maps to help the department implement programs and processes that would compile existing content in a formal way in preparation for publication; and that would set the framework for creating more publishable research content going forward.